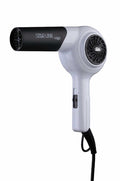 The SOLIS Starline hair dryer is much lighter than comparable hair dryers, weighing only 470g.
 For Professional Hair Salon Use!
It is unique in its turbo button that offers 30% extra power for quicker drying and straightening of the hair. It is also very quiet, producing a noise as low as 67dB when in use.
Like other SOLIS hair dryers, it has incorporated the ion technology and provides overheat protection. It also has a standard set of heat and speed settings, a styling nozzle and removable hair filters.
1350W
Professional Solis Hairdryer 320 Starline