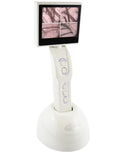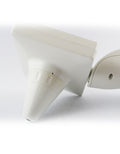 1. High resolution Scalp analyzer
2. Analyzer with 200 times or 50 times lens, sensitive scalp also can be inspected.
3. With high resolution, high performance high sensitivity and high quality.
4. Single handle design makes the size compact, auto focus easy to operate.
5. The five control buttons: freeze/save, previous image, next image, one/four/nine images
switches and delete image, signal button control function, more convenient to use
6. 1, 4,9 full or quad or nine images display, two kinds of capture angles, display the clear
images.
7. With SD card slot, optional large-capacity SD card, up to 5000 images can be saved.
8. Built-in lithium battery, wireless operation makes it more convenient to use.
9. Built-in WI-FI device can transmit the analyzer's images to mobile phone, Tablet PC and
Windows computer at the same time and images can be saved automatically.
10. Comes with analyzer's holder, more convenient to use.
11. It can record the video by the remote control, size of memory according the USB flash disk, the
picture and the video can be save to USB flash disk permanent.
12. Comes with 3.5-inch LCD screen can display real-time images and makes operation more easily