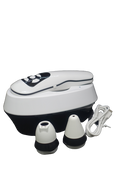 Cordless Scanner with WIFI connection with APP.
Can use on Android and Apple phone & Tablets. 
UV Charger stand sterilized while Charging.
Functions:
200x Lens-For checking Scalp surface conditions.
100x UV Lens-read
Oily & Moisture Scalp by Percentage
100x UV Lens-Show Follicle Oil blockage in Red color
100x UV lens-Show inner layer of skin for Skin Redness and Sensitive skin.
Package includes:
1 unit 200x lens
1 unit 100x UV lens
1 unit Memory Chip
1 unit Charger stand
1 unit Handheld Scanner
1 unit Wire for Charging
ZOOM Scanner with UV Light Lens